The CUSTOMCAST official channel is a monthly subscription membership, and one of the Niconico channels, which is operated by DWANGO Co., Ltd. enabled for memberships, can provide

members-only perks and various content for CUSTOMCAST.
A channel membership offers you a better CUSTOMCAST experience as well as perks like members-only features and items. (monthly payment of 500 yen plus tax)
NOTE: Channel subscription and Premium membership are two different services.
As of September 2019, we have the following perks. More perks will be added in the future.
This feature allows you to mix and match the facial expressions and poses along with your favorite items and take pictures of your avatar.

You can export your 3D avatar online and use it in Virtual Cast or other services.
- Your 3D model will be uploaded to THE SEED ONLINE (one slot available for your model)
- A registered account needs to be associated with THE SEED ONLINE (Free).
- Please note that you may not be able to export data while using collaboration items.
- Stream through Virtual Cast is only available on Niconico Live. Other platforms are not supported.

● Members-only item giveaways
You'll have chances to get some members-only items. (exclusive and not for sale)
In addition to the above, you can also receive a member-only item set once a month.
---
■How to sign up for the channel #1
While using the members-only feature or the banner in the app, you'll see the screen that introduces membership perks, then tap on the Subscribe button on the screen. (Currently free for one month)

■How to sign up for the channel #2
You will see the login screen for your account. If you already have a Niconico ID, please log in. If you do not have an ID, please create an account.
- Your membership status can be either free or premium.

■How to sign up for the channel #3
After you log in, you'll be asked to integrate Niconico OAuth. Select "Authorize".

■How to sign up for the channel #4
You will see the sign-up page. 
Enter your payment information and complete the signup process.
NOTE: You won't see this screen if you are already a subscriber to the channel.

■How to sign up for the channel #5
Go back to the app and enjoy the members-only features.
You will get a welcome gift for new subscribers, so please make sure to check your item box.
NOTE: If you are already subscribed to the channel, you can use the members-only features by logging in to your Niconico account via the banner in this app and integrating your Niconico OAuth.

ブロマガ会員ならもっと楽しめる!
会員限定の新着記事が読み放題!

※1

動画や生放送などの追加コンテンツが見放題!

※2

※1、入会月以降の記事が対象になります。
※2、チャンネルによって、見放題になるコンテンツは異なります。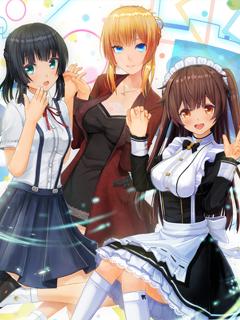 カスタムキャスト公式ニコニコチャンネル
カスタムキャスト
月額:¥550 (税込)